As the host of Out of This World Radio, Ted has had a long interest in psychic, UFOs and metaphysical phenomena. Schooled by his foster mother Teri (a master psychic), Ted learned how to contact spirits from the "other side" and now regularly receives and sends messages to various angels and spirits in the 5th and higher dimensions. He has four degrees in five different subjects, including law, anthropology, urban planning, library science, and international economics and has won awards for his research and writing. He is a four time international scholar to India (where he received two Fulbright grants to study law) and Australia (where he was a Visiting Research Fellow at Murdoch University in Perth, Western Australia).
Part of Ted's soul purpose is to help people have a better and happier life and to raise consciousness and welcomes any spiritual, psychic, or life questions. Ted is available for psychic and Tarot readings.
December 2018
I have received a message that Pleiades (aka: "The Seven Sisters") have come to assist and change the consciousness of planet Earth!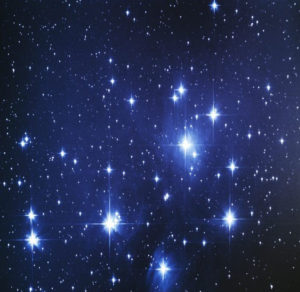 They sent a huge Armada of ships from Alcyone Taurus in the Pleiades on December 1st and on Sunday, December 3rd established positions around our planet after traveling though a worm hole 60 light years from their home constellation.
By December 4th, they had already started their work to expand our consciousness and energize our DNA. Please welcome them with lots of love and light! I will be channeling their messages during the show. This program should be really Out of this World!
November 25, 2016
Messages from John F. Kennedy
October 6, 2016
During the first hour of today's show, I talk about the ascension. During the first part of last month from September 5th to 15th, and then again on September 22nd and 23rd, the planet was hit with a series of very high vibrational energy waves which raised the frequency of the planet to a much higher level. In addition, during the first week of September, the planet tipped into positive territory for the first time in over 20,000 years! For many years, Dr. Masaru Emoto said that if humanity was 80 percent neutral, with 10 percent positive and 10 percent negative, all that was needed to turn the entire planet into the positive zone was to just change the 1 percent of the neutral into the positive and this has now happened, and planet is now positive! This is very good news, because this means that there will be no World War III and that we will not destroy ourselves. This may be one of my most important and profound radio shows, and I urge everyone to listen!
August 19, 2016
2 pm – 3 pm:  Ted discusses Messages from the Masters:  Cosmic Messages from Professor Albert Einstein, President John F. Kennedy, Senator Robert F. Kennedy, Michele de Nostradamus, Leonardo da Vinci, Dr. Masaru Emoto, President Dwight D. Eisenhower, and Ambassador Torwellian of the Galactic Alliance. Presentation given at the Peace and Light Conference, Punta Cana, Dominican Republic.  www.paxluxmundi.com
\
July 1, 2016
On this week's Out of this World Radio show, Ted gave messages from President John F. Kennedy, who will join me to help celebrate the Fourth of July holiday in the U.S. He gave messages on his murder, as well as what the U.S. and the world would have been like had he lived, and what he would do now to make the U.S. and the world a much better and happier place! This is one program that you will not want to miss! Messages from President Kennedy and other great spirits are now being written into a book that will be entitled "Messages from the Masters", which will be published later this year.
January 22, 2016
On this special broadcast of Out of This World Radio, Ted channeled messages from some very great and powerful spirits from the other side, including President John F. Kennedy, Professor Albert Einstein, Dr. Masaru Emoto, Michele De Nostradamus, J. Robert Oppenheimer, Mahatma Gandhi, Leonardo Da Vinci, and Ambassador Terwellian of Galactic Alliance of Interdimensional Free Worlds.  Please click here to read the messages he has channeled.

December 4, 2015
Ted's show on Nostradamus
September, 2015
Free readings Friday!
October, 2013
Ted's first broadcast