"DNA restructuring and Angels"
Hello Friends!!
During the last several weeks, I sponsored a series of workshops by Japan's most famous spiritual healer named Rae Chandran in Seattle, Washington, USA. He did a sound healing workshop on July 17th, followed by a DNA restructuring workshop on July 18th. Rae has visited Egypt 17 times during the past 10 years or so, and has brought back all kinds of wonderful healing sounds to help people with all kinds of things, including depression, sadness and health.
One of the healing methods that Rae taught us is a way to increase your energy and feelings of well-being is to simply visualize a golden ball of light around you then to breathe in the light. He said that the light is God's light and will revitalize and re-energize you. I have tried this technique myself and it really does work!!! After Rae did a DNA restructuring session with all of us on July 18th I have never felt so serene and peaceful in my entire life. There are 22 DNA strands which are dormant in everyone, but Rae uses special Egyptian healing techniques to literally wake your DNA. His workshops are truly a life changing event!! If you have a chance to attend one of his workshops, I strongly urge you to do so! His website is: www.raechandran.com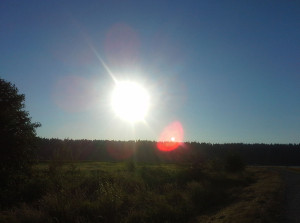 Everyone has angels around them, and one the easiest ways they make their presence known is through photographs. Here is a picture I took on a nature walk at a local nature preserve near my home. As you can see, there is a large red orb with a white dot in the middle of it. And if you look carefully at the sun, there are a series of purple-red orbs surrounding the sun! These are the spirit orbs from my beautiful and wonderful spirit family, and I know they are always with me!!
If anyone would like to contact their spirit guides or friends or relatives who have passed on, please email me at outofthisworld1150@gmail.com or call me at either (509) 750-9793 or 1-888-879-8339 (toll free), and I would be happy to teach anyone how to make direct contact with the other side!!
I'm so excited to announce my spiritual mentoring program … please click on the link for details!
Thank you so much for supporting Out of this World Radio! I hope you all have a really wonderful and happy day!!!
With lots of love and light,
for a better planet that's happy and bright!
Ted