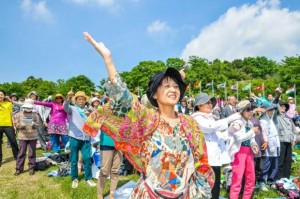 The Symphony of Peace Prayers was organized by Mr. Hiroo Saionji, Mrs. Masami and Dr. Ervin Laszlo.

http://www.symphonyofpeaceprayers.com/soppatfuji/sopp-2015/
The 11th annual Symphony of Peace Prayers (SOPP) was celebrated at Fuji Sanctuary on May 17, 2015. This year's celebration was the largest and most significant SOPP ceremony to date, with distinguished business leaders, scientists, educators, artists and others from around the world joining an international group of religious and spiritual leaders. They and the thousands of participants joined in the inauguration of the Fuji Declaration, an international charter that seeks to awaken the sacred consciousness—the divine spark—in all humanity in order to spur a transformation in our civilization and create a more peaceful, harmonious, and prosperous way of life on planet Earth. The SOPP, a global celebration of harmony and oneness where people from all different backgrounds join together to pray for peace and create a better world, has much in common with the purpose and spirit of the Fuji Declaration. For this reason, the SOPP at Fuji Sanctuary was seen as the perfect occasion to inaugurate this historic initiative. Read Masami Saionji's open letter introducing the Fuji Declaration.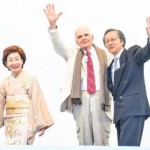 The three initiators of the Fuji Declaration—Masami Saionji (Chairperson of Byakko Shinko Kai), Hiroo Saionji (President of the Goi Peace Foundation), and Dr. Ervin Laszlo (Founder and President of the Club of Budapest)—were all present at the ceremony, and each of them offered a few words to introduce this historic initiative.
In her talk, Masami Saionji remarked: Our happiness and peace are not something we can get from others, nor can they be given by God. They must be created by the divine consciousness inherent in each of us. The goal of humankind is to rediscover this divine spark… Let us together build a new spiritual civilization—a civilization based on the divine spark.
Later in the ceremony, the Fuji Declaration was officially inaugurated, as Masami Saionji read the full text aloud, and participants recited together the individual declaration at the end of the document. A large, international group of founding signatories were introduced on stage. Two days earlier, this group had participated in a special discussion forum to mark the launch of the Fuji Declaration, sharing their experiences and ideas on how the declaration can be applied within their respective fields to advance humanity toward a new spiritual civilization.