See UFOS, Sasquatch, & Telos!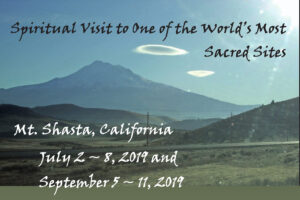 I am coordinating two trips to Mt. Shasta this year: July 2-8 and again September 5-11, 2019 and would love it you could join our group!
Mt. Shasta is a very special and magical place where miracle healings occur from the Telosians and the beautiful people of Telos and the Hollow Earth. We also always see Sasquatch and many UFOs flying in and around Mt. Shasta. On several occasions, we have been able to telepathically contact UFOs, and Adama (the high priest of Telos) healed the vision in my eyes, restoring them to perfect 20/10 eyesight
If you would like to go, the cost is only $200 per person which includes camping. Please send an email to me at: outofthisworld1150@gmail.com or you can call me in the United States at: (509) 750-9793.
For previous trips, please click here
July 19, 2019
Bob Wiles relays his experience during our last trip in July, 2019 with aliens beaming light into his tent and I channel Adama and the people of Telos. We saw Sasquatch, met with Adama, the people of Telos and a Pleiadian Spaceship commander.
(first 30 min)
July 12, 2019 (first 15 minutes)
July 5, 2019
May 30, 2019 (beginning around 28:15)
May 17, 2019 (beginning around 29:45)
May 10, 2019 (beginning 32:35)