See UFOS, Sasquatch, & Telos!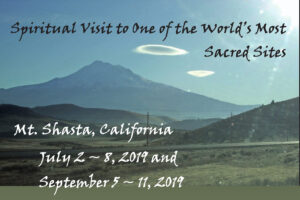 I will be interviewing Jason Armstrong who channels Adama (the high priest of Telos) and others on Telos and the Hollow Earth. I will be taking a group of people to Mt. Shasta this year twice from: (a) July 2nd to 8th, 2019, and (b) September 5th to 11th, 2019.Mt. Shasta is a very special and magical place where miracle healings occur from the Telosians and the beautiful people of Telos and the Hollow Earth. We also always see Sasquatch and many UFOs flying in and around Mt. Shasta. The last time we were there, we were able to telepathically contact a UFO, and Adama (the high priest of Telos) healed the vision in my eyes, restoring them to perfect 20/10 eyesight. The cost is only $200 per person which includes camping.
If you would like to go, please send an email to me at: outofthisworld1150@gmail.com or you can call me in the United States at: (509) 750-9793.
For previous trips, please click here
May 17, 2019 (beginning at 29:45)
May 10, 2019 (beginning 32:35)