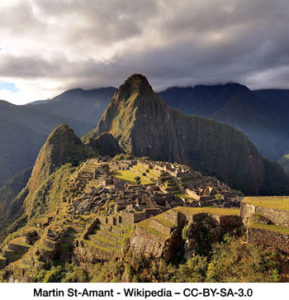 Some of the best psychics in America will be joining psychic Ted Mahr to contact the ancient Inca spirits to talk about Machu Picchu. Located in Peru at an elevation at nearly 8000 feet, Machu Picchu is considered one of the world's most sacred spiritual places! Jerry Bedlington, Carolyn White and Judy Cali will be bringing in the ancient Inca Spirits, as well as the spirits who were at Macchu Picchu before the Incas, with messages for humanity on the New Earth!
From October 7th to 17th, 2017, Ted will be giving presentations in Machu Picchu, and leading a small group to visit to Machu Picchu, Cuzco, with a possible side trip to the Nazca Lines, and the museum at Paracas (which contains ET elongated skulls), and some of the world's greatest wonders! We will also be stopping in Mexico City to explore the Pyramid of the Sun and the Pyramid of the Moon. The cost for this guided tour with psychic and author Ted Mahr is just $300 per person (air fare and accommodations extra). We will be meditating for world peace at the nearly 8000 ft. elevation Machu Picchu on Friday, October 13th. Trip includes free psychic readings from Ted and communication with the ancient Inca spirits of Machu Picchu.
The broadcast on Friday, October 13th from 3 pm to 4 pm (Pacific Daylight Time), will be live from Machu Picchu/Cusco – at nearly 8000 feet above sea level (technology willing!). Machu Picchu and Cusco are one of the most sacred spiritual places in the world! Ted will be channeling ancient Inca spirits from this very special spiritual place, with messages for humanity on how we can prepare for the ascension of the planet and shift into the higher dimensions. We hope you can listen to this really Out of this World broadcast!
October 13, 2017
September 22, 2017