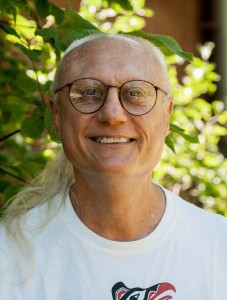 Kewaunee Lapseritis, AS, BA, MS, is a Holistic Health Consultant, Master Herbalist and Master Dowser with background in anthropology, psychology, conservation, and holistic health. He is also an Author, Lecturer, Presenter, Researcher, Radio & TV guest, film consultant, and world authority on the Sasquatch phenomenon. His two published books are: "The Sasquatch People and Their Interdimensional Connection" (2011) and "The Psychic Sasquatch and Their UFO Connection" (1998), and has 58 years of research and personal experience with the Forest People and friendly ETs.
Kewaunee Lapseritis is a social scientist who earned his Master's Degree in Science from the University of Wisconsin-Milwaukee; a Bachelor's Degree in Humanistic Psychology (Minors in Anthropology and Biology) from North Adams College in North Adams, Massachusetts where he spent time teaching anthropology in the early 1970s. Kewaunee also has a degree in Conservation from the University of New Hampshire- Durham. He is a Holistic Health Consultant, as well as a Master Herbalist and Wellness Educator with 40 years of training and service in this field. Among many other resources for training, Kewaunee studied Herbology/Botany with the Ojibwa traditional shaman, Keewaydinoquay, PhD in Ethno-Biology. Kewaunee is a world-traveled/trained herbalist who twice healed himself of cancer by natural herbal remedies and formulas.
Mr. Lapseritis has lectured at colleges and universities, including the Medical College of Wisconsin, been a presenter at hundreds of conferences and has appeared on over 500 radio and television programs, has been featured in numerous national and international media, and was a technical advisor for films and documentaries, and was a consultant for the film "Letters From The Big Man." To date, he has been featured in 37 books and is often featured in the international press, including various newspapers. Some of the publications are: FATE, Australia's People and Post magazines, OMNI magazine, Magical Blend, Cryptozoology (journal), Wildfire, Fate, Argosy, UFO magazine, Health Consciousness, and many others. In 1991, he was on a panel of scientists on a two-hour Bigfoot documentary on national television and he has appeared on The Discovery Channel twice.
Please visit his website at: http://sasquatchpeople.com/
Ted's interview with Kewaunee on October 9, 2013