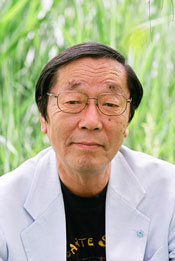 On Friday, July 14th, 2017, my two hour show was dedicated to one of the greatest scientists who ever lived – Dr. Masaru Emoto. Joining me in this special celebration of his life and work is Michiko Hayashi (Global Director Emoto Peace Project), Sandy Fox (Hado Instructor), Judy Cali (famous psychic channeling messages from Dr. Emoto during the program), among others.
In addition I played excerpts from the July 25, 2014  interview with Dr. Emoto (see below for the entire show) where we successfully brought peace between the Israelis and the Palestinians in the Gaza strip. In an intention experiment, we asked everyone around the world to pray for a 12 hour cease fire so food and medical supplies could be given to the wounded. Within hours, the experiment worked and the Israelis and the Palestinians agreed to the cease fire.
Please see: http://www.bbc.com/news/world-middle-east-28520227
Dr. Emoto discovered that everything is vibration or "Hado" – and that your consciousness does affect your reality. So to create a better world, you have to think positive thoughts! Dr. Emoto's work continues with the Emoto Peace Project, which teaches children around the world to learn love and gratitude – see: www.emotopeaceproject.me and www.emotopeaceproject.net
We are powerful spiritual beings – the planet is rapidly evolving and ascending into the higher spiritual realms, and the dark forces are on the run because the planet is changing in so many positive ways! I hope you will all listen and join us for this very special program to celebrate Dr. Emoto, and the New Earth where war, poverty, and fighting will be replaced with peace, love and harmony!
For more information on Dr. Emoto, please visit his show page on this website.
To read more about the Emoto Peace Project, please visit the website at:
https://emotopeaceproject.me and www.emoto-peace-project.net
October 20
July 21, 2017 Special two-hour tribute show for Dr. Emoto
July 25, 2014