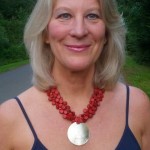 Deborah Stelfox is a numerologist, career intuitive coach and matchmaker. She offers all services as a numerologist including individual and compatibility charts as well as spiritual numerology. She is a certified career intuitive coach trained in the "I See Your Dream Job" approach. Her business is called Divine Matchmaker with the byline ….. dream jobs and dream relationships.
Through the window of the science of numerology she has a passion to help create more ideal relationships as well as match people to their divine mission here on earth when it comes to their career. She feels everyone should wake up in the morning and say, "I Love What I Do!". The next logical conclusion was to become a professional matchmaker. She currently does love and relationship coaching while she is working on her certification with the Matchmaking Institute in New York.
She specializes in matching spiritual and progressive souls with the goal of introducing them to their true love. Deborah has an extensive background in the field of holistic health, supplements, marketing and sales. She is also a teacher of Transcendental Meditation and is an enthusiast for inner peace, stress release and emotional healing. Deborah jokes that her need to wear all these hats is the triple 5 in her numerology chart.
Ted's interviews with Deborah:
May 26, 2017

April 21, 2017
April 22, 2016 (Note: the last 45 minutes is with Emma Louise Hansen)
August 14, 2015
July 11, 2014
May 23, 2014 (Note: the first 30 minutes is Deborah, the last 30 is with Patricia Corsi)